Richard Dennis Gallery - Kensington, Church Street, London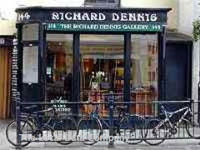 The Kensington Church Street Gallery became a mecca for collectors of art pottery: Charles Handley-Read in the 60s, waves of Japanese and American dealers in the 70s and 80s and passionate English collectors have all found their way to the shop during the past 40 years.
The doors are still open today at this internationally renowned gallery, and you will find Richard's son, Buchan, an artist, holding the fort.
Please telephone to check our current opening hours or to arrange an appointment.
Telephone: +44 (0)20 7 727 2061 or +44 (0)7973 310734
Address: 144 Kensington Church Street, Kensington, London, W8 4BN
Email: Please use our contact form to email the gallery.
To find the Richard Dennis Kensington Church Street Gallery:
View Larger Map