Richard Dennis Gallery - Kensington, Church Street, London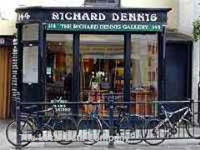 The Kensington Church Street Gallery became a mecca for collectors of art pottery: Charles Handley-Read in the 60s, waves of Japanese and American dealers in the 70s and 80s and passionate English collectors have all found their way to the shop during the past 40 years.
The Gallery is now closed but Richard's passion for antiques continues and he keeps a keen eye on the market. He is always happy to hear from past customers and may well be able to help them locate specific pots.
Please use our contact form on the contact us page to get in touch.