ASPECTS OF THE AESTHETIC MOVEMENT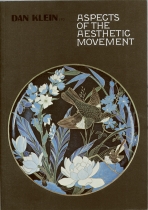 48pp, 3 colour plates, many black and white illustrations of books, ceramics, furniture, glass and textiles. Paperback.
Catalogue of an exhibition in 1978.
NOTE: For deliveries outside the UK, please contact us for postage costs.
International orders with insufficient postage will encounter an additional invoice before the order is dispatched.