AMANDA POPHAM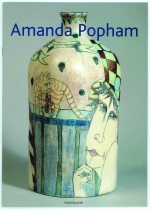 16pp, 33 colour plates. Paperback.
Catalogue from an exhibition held in 2005 with an essay by Malcolm Haslam on the work of this potter. PLEASE SEE SOMERSET SHOP ON LINE FOR DETAILS OF A TEAPOT WE HAVE AVAILABLE
NOTE: For deliveries outside the UK, please contact us for postage costs.
International orders with insufficient postage will encounter an additional invoice before the order is dispatched.