MAUREEN MINCHIN CARD - MM2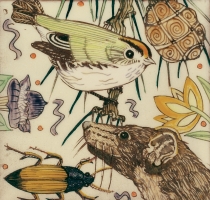 Maureen Minchin card of a Goldcrest and Pine Marten tile.
Goldcrest and Pine Marten tile designed by Maureen Minchin. All cards are supplied with envelope and sealed in a polypropylene bag. Card size 9cm x 9cm.
NOTE: For deliveries outside the UK, please contact us for postage costs.
International orders with insufficient postage will encounter an additional invoice before the order is dispatched.