DECORATIVE ARTS SOCIETY JOURNAL 10 (1986)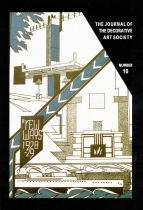 44pp. Paperback.
British Patrons of Modern Designs. A Model Patron - Basseett - Lowke, Mackintosh & Behrens by Louise Campbell; Catherine Cranston by Pamela Robertson; 'A Special Decoration' - William Nicholson & Edward Knoblock by Stephen Calloway; The Shipowner as an Art Patron Sir Colin Anderson and the Orient Line 1930-1960 by Veronica Sekules; Geoffrey Dunn & Dunn's of Bromley by Jennifer Hawkins Opie.
NOTE: For deliveries outside the UK, please contact us for postage costs.
International orders with insufficient postage will encounter an additional invoice before the order is dispatched.