DECORATIVE ARTS SOCIETY JOURNAL 11 (1987)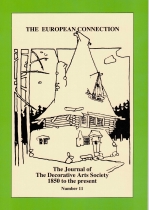 36pp. Paperback
The European Connection. Akseli Gallen-Kallella - the Creator of Finnish Design by Kerttu Karvonen-Kannas; Design Reform in Austria & Germany 1900-1941 'avant garde' and wicker furniture by Pat Kirkham; A Resurgent Technique - Art Needlework in the Netherlands by Patricia Wardell; Monart & Vasart Scottish Art Glass - the French Connection by Michael Thomas Vaughan; Decorative Arts as Sources of Architectural Symbolism by Katalin Keseru; Thonet and England by Ole Bang.
NOTE: For deliveries outside the UK, please contact us for postage costs.
International orders with insufficient postage will encounter an additional invoice before the order is dispatched.