WILLIAM MORRIS TILE CARD - WM5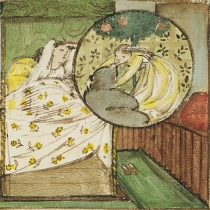 A watercolour for a narrative panel of the fairytale Beauty and the Beast designed by Edward Burne-Jones in 1862.
In the bedroom of her father's house, her sleeping sisters beside her, she dreams of the Beast and of her love for him. All cards are supplied with envelope and sealed in a polypropylene bag. Card size 9cm x 9cm. The scene forms the front and back of the card.
NOTE: For deliveries outside the UK, please contact us for postage costs.
International orders with insufficient postage will encounter an additional invoice before the order is dispatched.