WILLIAM MORRIS TILE CARD - WM9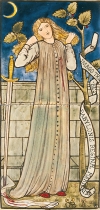 THISBE: A tile panel inscribed 'IMAGO THISBE BABYLON MARTYRIS' designed by Edward Burne-Jones for Morris, Marshall, Faulkner & Company in 1861.
On the panel a distraught Thisbe stands before a wall, through a gap in which she was to hold a moonlit tryst with Pyramus. Against the wall is her lover's sword, and at her feet a blood-stained cloth she wrongly believes to be evidence of this death. All cards are supplied with envelope and sealed in a polypropylene bag. Card size 18cm x 9cm.
NOTE: For deliveries outside the UK, please contact us for postage costs.
International orders with insufficient postage will encounter an additional invoice before the order is dispatched.