ARTS AND CRAFTS BOOK COVERS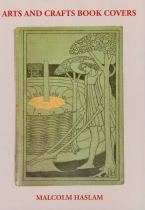 NEW TITLE - PUBLISHED MAY 2012 120pp, 99 colour images, softback.
Before the age of the paper book jacket, publishers issued their books in cloth-covered boards which were stamped with designs in golf leaf and colour. From around 1860, many of the best designs were supplied by artists of the Arts and Crafts movement. Dante Gabriel Rossetti, William Morris and Walter Crane led the way, and they were followed in the 1890s by Laurence Housman, Charles Ricketts and Selwyn Image, among others. Prominent Arts and Crafts architects, such as Philip Webb and C.F.A. Voysey, also designed book covers. Malcolm Haslam explores this uncharted territory, investigating not only the designs and designers, but the publishers and binders as well. He introduces some artists, little known today, whose designs filled the bookshop and bookshelves of late Victorian and Edwardian Britain, and he shows how designers in Europe and America were influenced by British book covers decorated in the Arts and Crafts style. Ninety-nine of the best covers are illustrated and described, and details are given of over fifty Arts and Crafts designers who worked in commercial book production, and their marks and monograms are shown.
| | |
| --- | --- |
| Price | £14.00 |
| By | |
| ISBN | 978 0 9553741 8 0 |
NOTE: For deliveries outside the UK, please contact us for postage costs.
International orders with insufficient postage will encounter an additional invoice before the order is dispatched.