TACS VOLUME 1 (1982)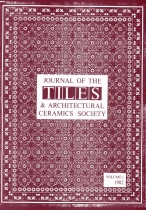 28pp. Journal of the Tiles & Architectural Ceramics Society.
Hans van Lemmen; Nineteenth-Century Dutch Tiles, Betty Greene; The Godwins of Hereford, Richard & Hilary Myers; Morris and Company Ceramic Tiles, G.K. Beaulah; Tiles of rhombic shape at Thornton Abbey with notes on some others
NOTE: For deliveries outside the UK, please contact us for postage costs.
International orders with insufficient postage will encounter an additional invoice before the order is dispatched.