TACS VOLUME 6 (1966)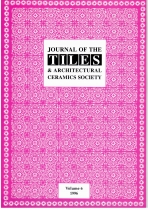 36pp. Journal of the Tiles & Architectural Ceramics Society.
Cleota Reed; A Discovery in Pennsylvania - The 'Tiles' Guardbook of John Gough Nichols, Chris Blanchett; The Tiles of Dorchester Abbey, Janet Douglas; Patronage and Politics in a Leeds Parish - The Story of the Brangwyn Mosaics in St Aidans Church, Harehills, Douglas Van Der Horst; Architectural Ceramics in South Africa - The Products of Olifantsfontein.
NOTE: For deliveries outside the UK, please contact us for postage costs.
International orders with insufficient postage will encounter an additional invoice before the order is dispatched.