TACS VOLUME 8 (2000)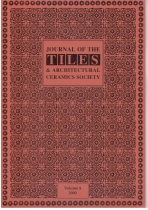 36pp. Journal of the Tiles & Architectural Ceramics Society.
Alan Swale; Architectural Terracotta and Faience - a critical appraisal, Hans Van Lemmen; Tiles in Seville, Peter Williams; Floor Tiling in Saint Mary's Church, Shrewsbury, Lynn Pearson; Decorative Ceramics in the Buildings of the British Brewing Industry.
NOTE: For deliveries outside the UK, please contact us for postage costs.
International orders with insufficient postage will encounter an additional invoice before the order is dispatched.