TACS VOLUME 9 (2003)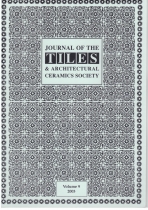 40pp. Journal of the Tiles & Architectural Ceramics Society.
Linda F Dyke; Henry Chapman Mercer's Tile Collection, Lynn F Pearson; Memorial and Commemorative Tiles in Nineteenth and Early Twentieth Century Churches, Margaret A.V. Gill; A Munificent Benefaction: Godwin Tiles in St Peter's Church, Hereford, Michael Sims; Gilbert Elliott and the Muskingum County (Ohio) Courthouse Floors.
NOTE: For deliveries outside the UK, please contact us for postage costs.
International orders with insufficient postage will encounter an additional invoice before the order is dispatched.