Bonzo Blue - 21cm Plate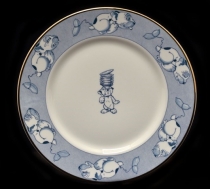 The china is decorated in-glaze and is dishwasher proof.
George Studdy (1878-1948) was an exceptional artist and illustrator. He created a character dog, Bonzo, with such draughtsmanship, wit and observation of animal/human relationships that he became a household name in Great Britain and around the world. His animated films were hailed as a technological breakthrough in British cartooning, pre-dating Mickey Mouse by more than 3 years. Bonzo memorabilia is scarce and is avidly collected by an enthusiastic band of devotees who will appreciate this new range of printed, bone china plates and mugs.
NOTE: For deliveries outside the UK, please contact us for postage costs.
International orders with insufficient postage will encounter an additional invoice before the order is dispatched.