GLAZED EXPRESSIONS - SUMMER 1981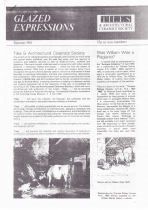 TILES & ARCHITECTURAL CERAMICS SOCIETY - GLAZED EXPRESSIONS: SUMMER 1981. 6 PAGES. PLEASE NOTE WE ONLY HAVE PHOTOCOPIES OF THIS GE.
Was William Wise a Plagiarist? William Morris Tile Survey - Church Tile Survey in Yorkshire - Tiled Dairy Rescued - The Bartons Arms Restored - Wanted - Evatt, Coalville - Tiles and W.H. Smith - News from Holland - Victorian Tiles - Tile Patents of 1800 and later - Open Days at Maws Tile Works Jackfield 1981 - Picture Tiles - Natural History Under Threat - Ironbridge Rescue for Ealing Tiles
NOTE: For deliveries outside the UK, please contact us for postage costs.
International orders with insufficient postage will encounter an additional invoice before the order is dispatched.