GLAZED EXPRESSIONS: No 9 - SPRING 1985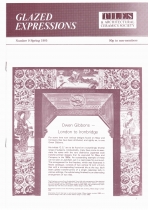 TILES & ARCHITECTURAL CERAMICS SOCIETY - GLAZED EXPRESSIONS: No.9 SPRING 1985. 12 PAGES
No.9 Spring 1985: Owen Gibbons Fireplace; Hospital Tiles; Tiles in the Loire Valley; All Saints, Margaret Street, London; Back Chat 4; Tile Designers and Plagiarism; Robert Minton Taylor (Contemporary Report); Tile Making at Minton, 1848; Albert Slater Tiles; J Moyr Smith; Doulton in Dunedin, NZ; Sherwin & Cotton Mini Tiles; Turkey Cafe, Leicester.
NOTE: For deliveries outside the UK, please contact us for postage costs.
International orders with insufficient postage will encounter an additional invoice before the order is dispatched.