GLAZED EXPRESSIONS: No 46 - SPRING 2003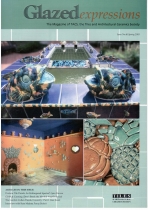 TILES & ARCHITECTURAL CERAMICS SOCIETY - GLAZED EXPRESSIONS: No.46, SPRING 2003. 20 PAGES.
No 46, Spring 2003: Post- war Tile Panels; Gibbs & Canning; Ibstock Hathernware visit report; Collectors' Corner; Gordon Cullen Murals, Coventry, part 1; Interview with Kate Malone; New Ceramic Art
NOTE: For deliveries outside the UK, please contact us for postage costs.
International orders with insufficient postage will encounter an additional invoice before the order is dispatched.