GLAZED EXPRESSIONS: No 55 - SPRING 2006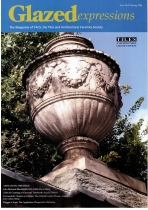 TILES & ARCHITECTURAL CERAMICS SOCIETY - GLAZED EXPRESSIONS: No.55 - SPRING 2006. 20 PAGES
No.55 Spring 2006: John Marriott Blashfield (1811-1882), Mario Baeck. Gibbs & Canning of Glascote, Tamworth, Angella Streluk. Burmantofts' Stories in Faience: The Oxford Corner House, London, Julie Gillam Wood. Maggie's Train: The Appledore Plaque, John Walmsley.
NOTE: For deliveries outside the UK, please contact us for postage costs.
International orders with insufficient postage will encounter an additional invoice before the order is dispatched.