GLAZED EXPRESSIONS: No 56 - SUMMER 2006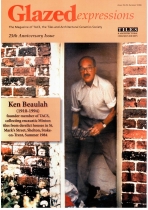 TILES & ARCHITECTURAL CERAMICS SOCIETY - GLAZED EXPRESSIONS: No 56, SUMMER 2006. 20 PAGES
No.56 Summer 2006: Celebrating 25 years of TACS. Recollections of Founder Members of TACS. De Porceleyne Fles Tile Panels at the Forsyth Institute, Boston Massachusetts University Hans van Lemmen.
NOTE: For deliveries outside the UK, please contact us for postage costs.
International orders with insufficient postage will encounter an additional invoice before the order is dispatched.