GLAZED EXPRESSIONS: No 57 - WINTER 2006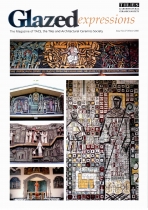 TILES & ARCHITECTURAL CERAMICS SOCIETY - GLAZED EXPRESSIONS: No.57, WINTER 2006. 20 PAGES
No.57 Winter 2006: Decorative ceramics in the twentieth century church Lynn Pearson. Hobbs Fish & Chip Shop, Dudley Angela & Barry Corbett Terracotta Tales, Penny Beckett. Minton Tile Panel at the V&A: Penny Beckett. Unswept Floor 2005 A mosaic for BBC Radio Leicester Artist: Cleo Mussi.
NOTE: For deliveries outside the UK, please contact us for postage costs.
International orders with insufficient postage will encounter an additional invoice before the order is dispatched.