GLAZED EXPRESSIONS: No 58 - SPRING 2007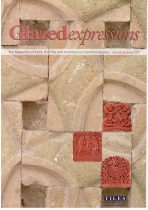 TILES & ARCHITECTURAL CERAMICS SOCIETY - GLAZED EXPRESSIONS: No.58 - SPRING 2007. 20 PAGES
No.58 Spring 2007: Tile Schemes in Scottish Shops, Lindsay Lennie. A Railway Miscellany, Lynn Pearson. Susan Mussi of BenSu Ceramica Barcelona. Tunisia, A Tilemaker's Paradise, Karen Singer Philippa Threlfall and the Black Dog of Wells, Somerset. Spanish Tiles at the Museo del Azulejo, Hans van Lemmen.
NOTE: For deliveries outside the UK, please contact us for postage costs.
International orders with insufficient postage will encounter an additional invoice before the order is dispatched.