GLAZED EXPRESSIONS: No 68 - 2011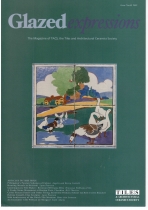 TILES & ARCHITECTURAL CERAMICS SOCIETY - GLAZED EXPRESSIONS: No.68 - 2011. 24 PAGES
No.68 2011: Pilkington's Persian Schemes of Colour Angela and Barry Corbett. Hunting Murals in Helsinki Lynn Pearson. Contemporary Tile Maker – Bronwyn Williams-Ellis Bronwyn Williams-Ellis. A Coade Stone Monument at Hooton Park, Cheshire Bill Thacker. Carter Picture Panels and Other Tiling, Barnfield Primary School Ian Betts & Chris Blanchett. Halima Cassell, Clay Sculptor Lynn Pearson. 50th Anniversary of the Dutch Tile Museum Hans van Lemmen. An Encounter with William de Morgan? Kath Adams.
NOTE: For deliveries outside the UK, please contact us for postage costs.
International orders with insufficient postage will encounter an additional invoice before the order is dispatched.