GLAZED EXPRESSIONS: No 69 - 2012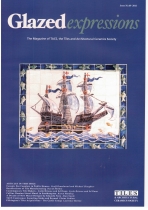 TILES & ARCHITECTURAL CERAMICS SOCIETY - GLAZED EXPRESSIONS: No.69 - 2012. 24 PAGES
No.69 2012: Ceramic Bar Counters in Public Houses Geoff Brandwood and Michael Slaughter. Recollections of Tile Manufacturing David Malkin. Contemporary Tile Makers Carlo Briscoe and Ed Dunn Carlo Briscoe and Ed Dunn. Collins Hamtun Street Mural in Southampton Karen Wardley. A Decade of New Mural Designs by Eduardo Nery Alan Swale. TACS Conference: Exporting Stoke and Beyond Elaine Godina. Pilkington's Tiles Acquisitions – The Carter Group - Lawrence Burton.
NOTE: For deliveries outside the UK, please contact us for postage costs.
International orders with insufficient postage will encounter an additional invoice before the order is dispatched.