GLAZED EXPRESSIONS: No 66 - SUMMER 2010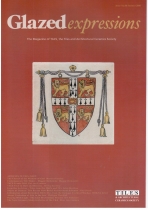 TILES & ARCHITECTURAL CERAMICS SOCIETY - GLAZED EXPRESSIONS: No 66, SUMMER 2010. 24 PAGES
No.66 Summer 2010: The Church of the Wisdom of God Martin Brandon. Contemporary Tile Maker – Maggie Berkowitz Maggie Berkowitz. TACS Events 2010 Pat van Lemmen. TACS Visit to Hull and Hornsea Shirley Scotney. From the Archives – Tiles from the 1960's and 70's John Merilion. Shaws of Darwen: Two Recent New-Build Architectural Schemes Alan Swale. Information about Rotterdam Bible tiles from the Baroque Castle of Wachau Wilhelm Joliet. About 'Evolution of Life in the Sea' Philippa Threlfall. Playing With Light – The Gum Bi-chromate Process Kit Anderson. The New Ceramics Study Galleries at the V&A Hans van Lemmen.
NOTE: For deliveries outside the UK, please contact us for postage costs.
International orders with insufficient postage will encounter an additional invoice before the order is dispatched.