GLAZED EXPRESSIONS: No 64 - WINTER 2009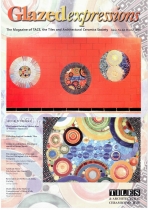 TILES & ARCHITECTURAL CERAMICS SOCIETY - GLAZED EXPRESSIONS: No 64, WINTER 2009. 24 PAGES
No.64 Winter 2009: The Ormond Building: Minton tiles in Victorian Manchester. Lance Fuller. Collecting English Encaustic Tiles. John Scott. Colour in Architecture: the ceramic murals of Susan Tunick. Alan Swale. Tile designs by Lewis Foreman Day for Pilkington's Tile & Pottery Company. Barry & Angela Corbett, Pilkington's Lancastrian Pottery Society. Artificial Stone – Life before Mrs Coade? Richard Smith. Restoration at the howard Arms, Carlisle. Lesley Durbin. Dutch tiles at the Harbour Commissioner's Office, Blyth, Northumberland. Hans van Lemmen.
NOTE: For deliveries outside the UK, please contact us for postage costs.
International orders with insufficient postage will encounter an additional invoice before the order is dispatched.