GLAZED EXPRESSIONS: No 62 - AUTUMN 2008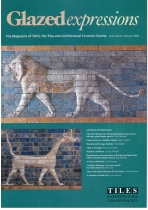 TILES & ARCHITECTURAL CERAMICS SOCIETY - GLAZED EXPRESSIONS: No 62, AUTUMN 2008. 24 PAGES
No.62 Autumn 2008: Cliveden Minton Tiles Working Holidays: how to start solving a giant jigsaw puzzle Vicki Marsland. Conservation as a Holiday option Elaine Godina. Roundwood Grange, Basildon Steve Walker. Tiles in Portugal Hans Van Lemmen. Babylon Exhibition Carolyn Wraight. Reproduction and restoration at the Maison Emile Zola/Musee Dreyfus, Medan, France John Marilion. A Relic in Rochdale Lynn Pearson. 'Aesthetic Sabotage': two new murals by Robert Dawson Alan Swale. Tiles at the Harris Museum & Art Gallery Caroline Jordan. A Surprise in South Uist Lynn Pearson.
NOTE: For deliveries outside the UK, please contact us for postage costs.
International orders with insufficient postage will encounter an additional invoice before the order is dispatched.