GLAZED EXPRESSIONS: No 60 - WINTER 2007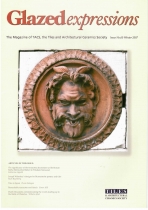 TILES & ARCHITECTURAL CERAMICS SOCIETY - GLAZED EXPRESSIONS: No 60, WINTER 2007. 20 PAGES
No 60 Winter 2007: The significance of the terracotta decorations at the Roman Baths (Romischen Bader) in Potsdam-Sanssouci Katharina Lippold. Joseph Walmsley's design for Burmantofts pottery and tiles Ruth Baumberg. Tiles in Japan. Denis Gaughan. Remarkable terracotta roof finials Simon Hall. Dutch tile panels commemorating the events leading up to the battle of Waterloo Wilhelm Joile.
NOTE: For deliveries outside the UK, please contact us for postage costs.
International orders with insufficient postage will encounter an additional invoice before the order is dispatched.