GLAZED EXPRESSIONS: No 70 - 2012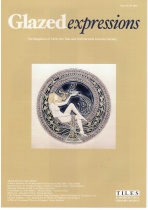 TILES & ARCHITECTURAL CERAMICS SOCIETY - GLAZED EXPRESSIONS: No.70, 2012. 24 PAGES
No.70 2012: A Brief History of Architectural Terracotta in the USA Amy Smith. Recollections of Designs Trends in British Ceramic Tiles David Malkin. Missing Months of the Year Tiles Ian Betts. Contemporary Tile Maker – Victoria Ellis Victoria Ellis. Obituary – Kenneth Clark Penny Beckett. 17th Century Patterned Azulejos from Portugal Rosário Salema de Carvalho et al Chumy Chúmez Two Pictorial Tile Works in Madrid Cleota Ree. A Tale of Tenement Tiles is Glasgow Fiona Sinclair.
NOTE: For deliveries outside the UK, please contact us for postage costs.
International orders with insufficient postage will encounter an additional invoice before the order is dispatched.