GLAZED EXPRESSIONS: No 71 - 2013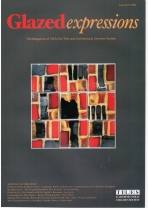 TILES & ARCHITECTURAL CERAMICS SOCIETY - GLAZED EXPRESSIONS: No.71 - 2013. 24 PAGES
No.71 2013: Pictorial Tiles in Pubs: Part 1 – Scotland, Wales and Ireland Geoff Brandwood & Michael Slaughter. Recollections – The Second Encaustic Tile Revival David Malkin. Carter & Co. Tile Panels at W .H. Smith's Branches Ian Betts. Contemporary Tile Maker – Royce Wood Studios Peter Wood. Minton Tile Ceiling, Bethesda Terrace, Central Park, New York Danny Callaghan. The Conservation of a Swedish Ceramic Stove Oliver Heal.
NOTE: For deliveries outside the UK, please contact us for postage costs.
International orders with insufficient postage will encounter an additional invoice before the order is dispatched.