GLAZED EXPRESSIONS: No 72 - 2013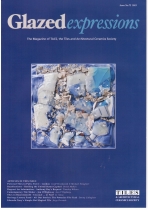 TILES & ARCHITECTURAL CERAMICS SOCIETY - GLAZED EXPRESSIONS: No.72 - 2013. 24 PAGES
No.72 2013: Pictorial Tiles in Pubs: Part 2 – London Geoff Brandwood & Michael Slaughter. Recollections – Retiling the United States Capitol David Malkin. Request for Information – Anthony Ray's Bequest Timothy Wilson. Contemporary Tile Maker – Jan O'Highway Jan O'Highway. Tiles in Bournemouth – Unusual … or Not? Jo Amey. Heritage Lottery Fund – All Our Stories: The Potteries Tile Trail Danny Callaghan. Eduardo Nery's Simple But Magical Tile Jorge Rezende.
NOTE: For deliveries outside the UK, please contact us for postage costs.
International orders with insufficient postage will encounter an additional invoice before the order is dispatched.