GLAZED EXPRESSIONS: No 51 - WINTER 2004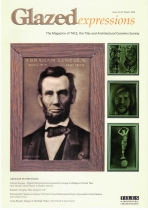 TILES & ARCHITECTURAL CERAMICS SOCIETY - GLAZED EXPRESSIONS: No. 51, WINTER 2004. 20 pages
No.51 Winter 2004: Altered Images – Digital Interpretations Inspired by George Cartlidge's Portrait Tiles, Builders' Surplus Tiles, Burmantofts First Class Refreshment Room at Central Station in Newcastle upon Tyne, Craig Bragdy Design of Denbigh in Wales, along with all the regular features.
NOTE: For deliveries outside the UK, please contact us for postage costs.
International orders with insufficient postage will encounter an additional invoice before the order is dispatched.