GLAZED EXPRESSIONS: No 52 - SPRING 2005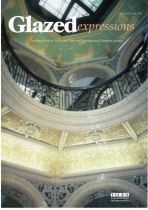 TILES & ARCHITECTURAL CERAMICS SOCIETY - GLAZED EXPRESSIONS: No. 52, SPRING 2005. 20 pages
No.52 Spring 2005: TileWeb: Paving-tile watercolours online – a new resource, Ceramics in the South Caucasus, Churchill Fellowship Terracotta Tour, Looking Forward: TACS in Bristol, Burmantofts' Stories in Faience, Interview with the American tile auctioneer, Susanne Perrault + regular features.
NOTE: For deliveries outside the UK, please contact us for postage costs.
International orders with insufficient postage will encounter an additional invoice before the order is dispatched.