TACS VOLUME 23 (2017)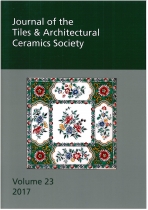 35pp Journal of the Tiles & Architectural Ceramics Society
Hans van Lemmen; From over-glaze to under-glaze: British transfer-printed tiles 1756-1854. Hans Theunissen & Hatice Adiguzel; A Paradise for the Studious and Literary; the Dutch Tiles of the Rajib Mehmed Pasha Library. Angela & Barry Corbett; Lesser known pre-WW1 artists at Pilkington's Tiles.
NOTE: For deliveries outside the UK, please contact us for postage costs.
International orders with insufficient postage will encounter an additional invoice before the order is dispatched.